South Carolina Lawyers Specializing in Social Security Disability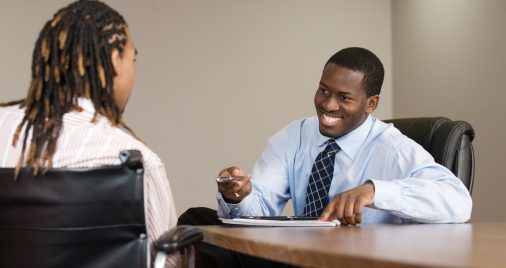 If you're suffering from a disability and can no longer work, you've probably heard about getting financial assistance through the U.S. government's Social Security Disability program. You may have already applied for monthly benefits and been denied. Don't despair — instead, consider consulting with a South Carolina SSD/SSI attorney. A Social Security Disability lawyer can help you through the entire process of applying for benefits and, if necessary, assist with any appeals that may be necessary through South Carolina's legal system.
Contact the Social Security Disability attorneys at Land, Parker & Welch, P.A. for assistance with your SSD claim. Our compassionate SSD / SSI lawyers will build a case on your behalf.
Call (803) 435-8894 or use our online contact form for a free consultation.

Our South Carolina accident and disability attorneys have more than 120 years of combined experience assisting disabled South Carolina residents obtain SSD benefits. We can also help eligible citizens with Supplemental Security Income (SSI), another government benefits program.
Located in Manning, our firm prides itself on treating its clients like family. When you call Land, Parker & Welch, P.A., you won't be talking to an automated service. You'll get to speak directly with a Social Security benefits attorney about South Carolina disability and workplace accident laws.
About Social Security Disability
The Social Security Disability program provides benefits to people whose disabilities prevent them from doing their old jobs and cannot "engage in any substantial gainful activity" due to their physical or mental impairments.  More than 9.4 million Americans received Social Security Disability benefits in 2010, according to the Social Security Administration's annual report. The average monthly benefit was $1,067.60.

There are several criteria that an individual must meet in order to be eligible for Social Security Disability payments. First, the applicant must be less than retirement age and have a substantial enough (and recent enough) work history to qualify for benefits. That work history is determined by how many quarters a person has worked and can vary based on his or her age and when they became disabled.
Next, applicants for Social Security Disability benefits must establish that they have a disability that is expected to result in death and has lasted (or is expected to last) for more than one year.

Remember this: It is not enough to simply tell the Social Security Administration that you are disabled in an application. You must substantiate your claims with considerable amounts of medical documentation. This is a very important step in the application process.
It can take 3-5 months for the SSA to evaluate your claim, so you want to make sure you get the application done right the first time. A skilled Manning SSD attorney will be able to tell you what types of records you should obtain in order to present the strongest social security disability case on the first go-round.
I've Been Denied Social Security Disability Benefits. Now What?

Contact Our Social Security Disability Lawyers Today

If you're disabled and seeking Social Security Disability benefits, an SSD / SSI lawyer can help you navigate through the confusing application process and help with appeals. Call Land, Parker & Welch, P.A. at (803) 435-8894 or
contact us online
for a case evaluation free of charge.