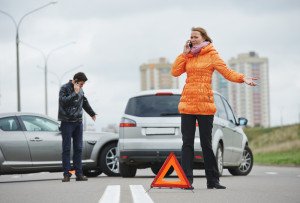 We see them all too often — vehicles crumpled on the side of the road after an accident, victims being rushed to the hospital in ambulances, bystanders pulled over to offer help and comfort to those who have been injured. Auto accidents happen every day throughout South Carolina, and unfortunately, many of those accidents are due to the carelessness or negligence of others. These auto accidents may leave victims unable to work, burdened with mounting medical bills, and worried about the future for their families. In the worst cases, auto accident victims do not survive the crash, leaving a void in their families that can never be filled.
At the family-run law firm of Land, Parker & Welch, P.A., our auto accident attorneys are dedicated to getting justice for victims who are suffering due to the wrongful conduct of others. With more than 120 years of combined legal experience, our lawyers are well-equipped to make sure South Carolina auto accident victims get the compensation they deserve.
In you or a loved one has been injured in an accident in Manning, Bishopville, Mayesville, Summerton, Sumter, Turbeville or anywhere else in South Carolina, and someone else is to blame, call or connect with us online to speak with an attorney today. We will review your case for free and go over all your legal options.
Types of South Carolina Auto Accidents
When a driver is careless or an auto parts manufacturer is negligent, anyone on the road can be forced to pay for their mistakes. The South Carolina auto accident lawyers at Land, Parker & Welch, P.A., have a wealth of experience in representing all types of auto accident victims, including people who suffered injuries in:
Car Accidents
There are more than 3.7 million people of driving age in South Carolina. That's a lot of cars on the road. Unfortunately, that's also a lot of opportunities for accidents. Drivers can be distracted, drunk, texting or simply careless when they cause a serious accident that leaves other drivers and passengers injured or even dead. In some cases, faulty auto parts can lead to a serious accident. If you or a loved one has been the victim of a car accident in Manning or elsewhere in South Carolina, contact the auto accident attorneys at Land, Parker & Welch, P.A., immediately. Our attorneys know exactly the right steps to take ensure you get just compensation for your pain and suffering.
Truck Accidents
Living along the Interstate 95 corridor, the people of South Carolina are used to seeing tractor-trailer trucks hauling big loads through our cities and towns. But when one of these heavyweight vehicles comes barreling at a smaller vehicle, the ensuing crash can be catastrophic. Truck accident victims can suffer life-altering injuries such as traumatic brain injuries (TBI) or spinal cord injuries, and fatalities are all too common. If your life has been changed forever due to someone else's negligence, contact the truck accident attorneys at Land, Parker & Welch, P.A. Our attorneys will explore all opportunities for legal compensation to ensure the person or other entities to blame are held accountable.
Motorcycle Accidents
The freedom of riding a motorcycle is something enjoyed by many South Carolinians, but the rush of the open air can leave motorcyclists seriously vulnerable when they find themselves at the mercy of careless drivers in larger vehicles. Tragically, more than 100 motorcyclists die each year in crashes in South Carolina, according to the National Highway Traffic Safety Administration. In fact, the South Carolina Department of Public Safety reported that motorcycle injuries resulted in 751 hospitalizations, 2,963 emergency room visits, and almost $74 million in hospitalization and emergency room bills in 2010. Motorcycles have a right to be on the road, and the motorcycle accident attorneys at Land, Parker & Welch, P.A., believe that motorcyclists have a right to compensation when they are injured due to other drivers' carelessness. In you or a loved one has been hurt in a motorcycle accident, for a free consultation on your case.
Bicycle Accidents
Bicycles are a great way to get around the streets of Manning and get some good exercise in the process. And although bicyclists have every right to be in the flow of traffic, they are not always given the respect they deserve from other drivers. A bicycle is no match for a car in a collision, and cyclists often suffer serious injuries when a careless driver fails to watch out for them. Rest assured, "the motorist is very often technically at fault in a bicyclist-motor vehicle collision," according to the South Carolina Department of Motor Vehicles. If someone else's negligence has left you or a loved one seriously injured in a bicycle accident, contact the bicycle accident attorneys at Land, Parker & Welch, P.A., immediately. That motorist may not have been watching out for you, but our attorneys certainly will.
Pedestrian Accidents
Children walking home from school, an elderly couple crossing the street, a family out for an evening stroll — pedestrians in South Carolina have a right to feel safe when they go for a walk. "Every mode of travel has equal priority on the road, and it is the motorist's responsibility to yield to a pedestrian," warns the South Carolina Department of Motor Vehicles. Yet each year in South Carolina, about 100 pedestrians are killed in traffic accidents, according to the South Carolina Department of Public Safety. If you are grieving the loss of a loved one who was killed in a pedestrian accident, or you yourself were injured, the compassionate attorneys at Land, Parker & Welch, P.A., want to hear from you. Contact our pedestrian accident attorneys to get started reviewing the details of your case free of charge, and we'll go over all your options for pursuing the compensation you deserve.
Get Justice Now
You deserve justice for the injuries or losses you suffered due to an auto accident caused by someone else's negligence, and the South Carolina auto accident attorneys at Land, Parker & Welch, P.A., are ready to get to work immediately on your case. You should know that in general, a personal injury victim in South Carolina has three years from the date of the injury to file a claim. That's why you should contact an attorney as soon as possible after an auto accident to get started on your case.
Call the auto accident attorneys Land, Parker & Welch, P.A., today or reach us online. We would be glad to provide you with a free consultation and answer any questions you may have at our Manning office or another location that is most convenient for you.